Christmas is for singing loudly to music you've been waiting all year to listen to and it's for watching the films that make you excited for the holiday and feel all cosy. So here's my list of top Christmas watches, in no particular order. 
The Muppets Christmas Carol
I don't know why this one is on my list, but it just sets me up perfectly for the Christmas spirit, perhaps that's because so many spirits are featured in it! I like the message this film brings, I think a few people could learn from it to not take life so seriously. But also it is just a nice film that has a happy resolve and with a few of our favourite muppet characters thrown in there too! If you've never heard of this film/book, it's about a man who hates Christmas and being nice in general, being visited by three spirits on Christmas Eve who make him see the error of his ways.

Love Actually
Obviously this had to go on the list, this is guaranteed a watch every Christmas. We all have our favourite storylines and characters and each year we fall more and more in love with this film as a consumer nation. It is a must watch, plain and simple, nothing will ever beat it! Love Actually follows several different storylines that somehow all collide, it's about finding love at Christmas time and for that reason it's just a happy and smiley film!
Elf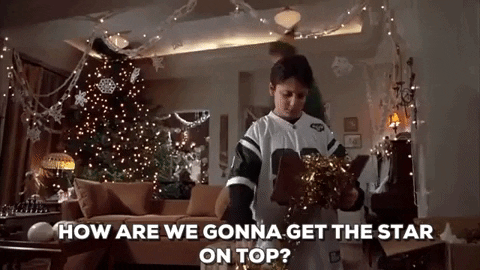 It occurred to me today that I don't own a copy of this film, so this was soon rectified. This is such a fun and silly Christmas film that it's the perfect family one to watch, it has something for everyone. Primarily it's about an adopted Elf who goes on the search of trying to find his real father. I don't watch this one every year, so I forget bits of it and get to laugh about them all over again. Also who doesn't love a good Elf gif!

The Holiday
One of my all time, not just Christmas, favourite films, and that's not just because of Cameron Diaz's hair. This film has such a nice concept and I love the way we get to see two different people's worlds/lives collide and change. The casting is also superb, I was always in awe of some aspects of each of the four main characters in this film. The perfect cosy Christmas viewing, following two women who need a break from their lives, so they fly to other ends of the world and do a house swap for Christmas!
Christmas with the Kranks 
This was a new one for me, I watched it for the first time last year and I really enjoyed the hallmark cheesiness of it as a Christmas film. It's about a family whose daughter makes a last minute decision to come home for Christmas, but her parents were planning on going on a cruise, so suddenly they have to somehow cobble together a Christmas for her to come home to. Generally it's a funny watch that's just easy to relax in front of.
Arthur Christmas 
I love this film, it's so lovely and sweet and nearly makes me cry every time! It's very simply about Santa's son trying to keep Christmas alive by bringing a little girl her forgotten present. It's funny, it's heroic, it's tear inducing. It's a very happy little animation and I enjoy watching it since our discovery of it a few years ago.